Schneelastsensor Perfekte Zusammenarbeit
Snow load sensor or roof load sensor for measuring snow loads, roof loads, and accumulated water. Experience and performance range
Roof loads caused by snow, ice, or accumulated water pose significant dangers to life and property. A well-known example from the past is the catastrophic roof collapse in Bad Reichenhall. Evacuating or even shutting down public buildings, warehouses, or production facilities is extremely costly. Roof collapses with considerable damages and production downtime, along with associated losses, result in significant expenses that are difficult to calculate. The snow load measurement device provides the ability to calculate the risk. A secure and continuous monitoring system warns you in advance of imminent structural overload.
The snow-water equivalent serves as an essential parameter for precipitation monitoring, assessing snow volume, flood protection, or water management.
Climate change is becoming evident. Winters have become warmer, and days with short-term heavy snowfall or heavy rainfall have significantly increased in recent years. In conjunction with rising temperatures, this leads to the effect that heavy snowfall often occurs in the form of wet snow. The gross weight of wet snow is often underestimated. If ice formation or meltwater, along with poorly draining heavy rainfall, occur later, the static values of buildings can quickly reach or exceed their load-bearing capacity.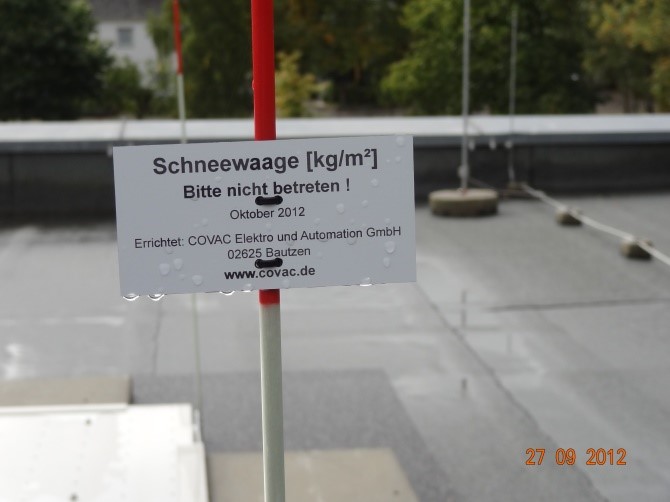 We would be pleased to hear from you and receive your project inquiry. Please share your ideas with us so that we can work together to implement them.
Snow Load Sensors / Technical Support
Sandro Manneck
Tel.: 03591 3694-27
Mail: S.Manneck@covac.de

We cover a broad spectrum. Innovation, quality, reliability, service & support, and flexibility
Our systems are meticulously designed down to the smallest detail to suit your products and their associated processes.
We have successfully automated processes in the energy supply, medical technology, automotive industry, chemical, food technology, energy, and environmental technology sectors. With this wealth of experience, we are the right partner to realize individual assembly solutions.