COVAC Technological Advancement and Prospect.
COVAC is a market-oriented engineering company specializing in the automation of manufacturing processes and technological procedures. Automation refers to controlling, regulating, and optimizing process workflows. Moreover, we possess the necessary expertise in machine and equipment networking, as well as in designing control, information, data transmission, and supervisory systems.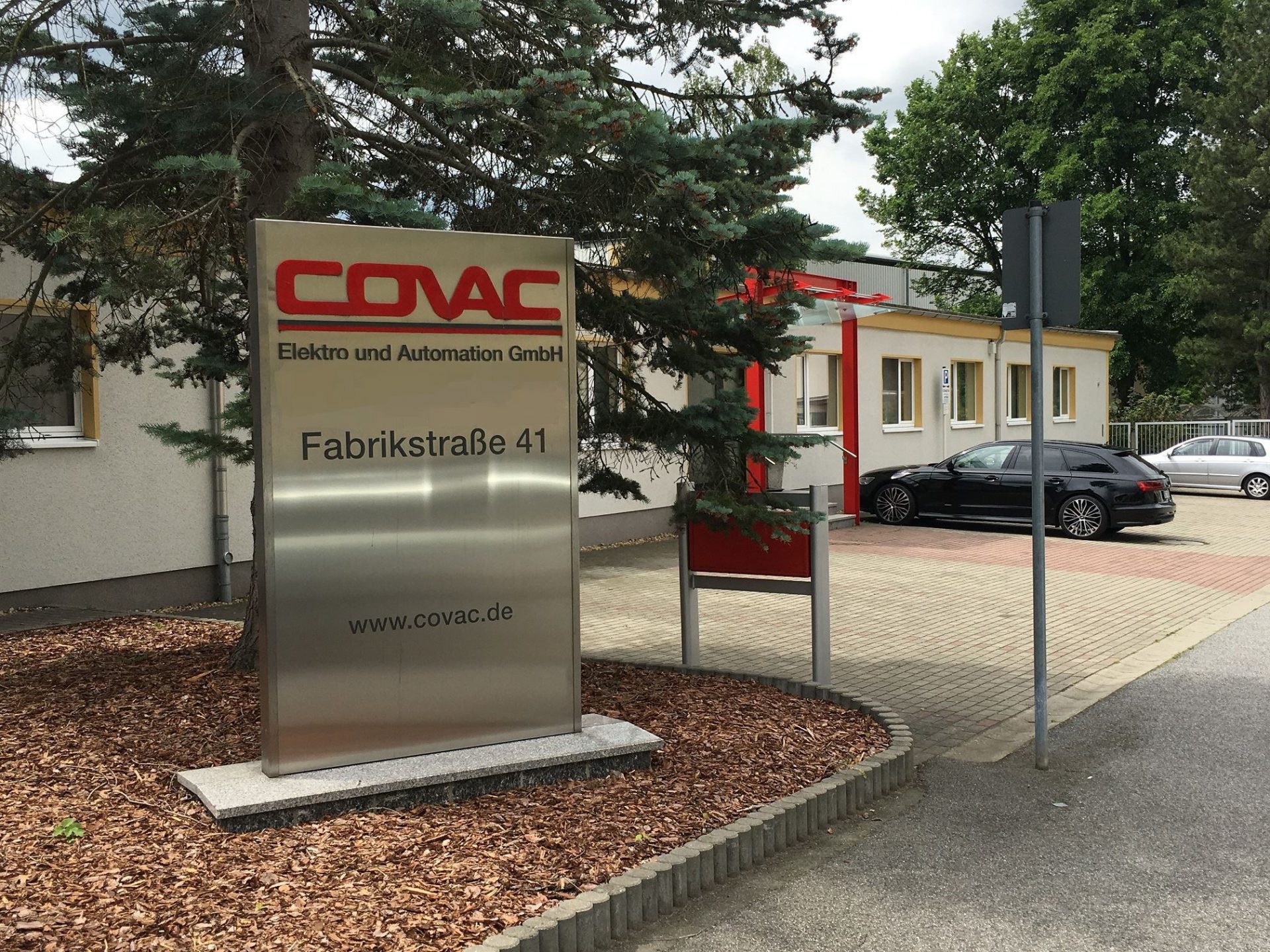 COVAC is a classic medium-sized company established in 1991. The company has experienced steady personnel and economic growth over the years, currently employing 17 staff members, two-thirds of whom are university graduates.
COVAC is renowned for its comprehensive automation services, offering a complete range of solutions from consulting and development to project planning, hardware design, programming, manufacturing, commissioning, and after-sales service. Our company also boasts an in-house control cabinet construction facility.
We have a strong presence both regionally and throughout Germany, serving clients such as Alstom's facilities in Bautzen and Görlitz, Deutsche Bahn Werk Niesky, Sachsenmilch plant in Leppersdorf, Mast-Jägermeister SE in Wolfenbüttel and Kamenz, Develey's vinegar and mustard plant in Kleinwelka, Privatbrauerei Eibau, water management facilities of Landestalsperrenverwaltung Spree/Neiße, and Wasserversorgung Bischofswerda GmbH, AFT Förderanlagen Bautzen GmbH in the automotive sector, Premium Aerotec in Varel, SKM GmbH in Boxberg, and many more.
In addition to our domestic operations, we have successfully undertaken projects internationally, including collaborations with Özgazi Dairy in the Netherlands, a Pyrolysis Plant for tire recycling in Bukowno, Poland, VOLVO Trucks in Sweden, Alstom Czech Republic a.s. in the Czech Republic and Austria.
Significant for the company is:
The automation of production processes in plants and machinery, incorporating various technologies.
The modernization of automation technology.
On-site service, maintenance, and repair, including remote troubleshooting support through remote access.
COVAC Our areas of expertise
The manufacturing program, or the nature of the commercial activities, of COVAC revolves around the following:
Development, Planning, and Design: COVAC specializes in the development, planning, and design of control systems, measurement, and regulating technology for automating process workflows in industrial plants.
Project Engineering and Construction: We excel in project engineering and construction, ensuring the successful implementation of automation solutions that meet the specific requirements of each industrial facility.
Execution and Implementation: COVAC is proficient in executing and implementing control systems, ensuring smooth integration into existing industrial plants.
Comprehensive Services: The services offered by COVAC encompass all activities necessary for the realization and operation of an automated system.
With expertise in control technology, measurement, and regulation, COVAC provides full support for automating industrial processes, enhancing efficiency, productivity, and reliability in our clients' operations. Our comprehensive offerings cover all aspects required to bring a system into operation and maintain its smooth functioning.
software development
The software development is carried out for programmable logic controllers, NC controls, human-machine interfaces (HMI), supervisory control and data acquisition (SCADA) systems, and data transmission/remote operation technology.
COVAC CIRA is a remote alarming software
Fernalarmierungssoftware COVAC CIRA
COVAC CIRA is a remote alarming software that is fully integrated into a process control system. All parameters of remote alarming, such as contact phone numbers, types of alerts, escalation levels and times, as well as the currently active configuration, are directly set within the control system. In the event of an alarm, the control system calls the CIRA program. CIRA establishes communication with the phone/SMS/messenger provider via HTTPS, receives the response from the alerted contact, and passes it back to the control system. This allows for remote acknowledgment of individual alarms as well. The system architecture is designed to use standardized web protocols, making a regular internet connection with simple firewall rules sufficient for operation. Additionally, CIRA continuously monitors the internet connection and the accessibility of the communication provider. This means that the remote alarming software is self-monitoring, eliminating the need for manual or automatic test alarms. Optionally, a mutual monitoring feature can be subscribed (Blackout-Watchdog), where the communication provider continuously monitors the communication readiness of the process control system from the outside. In case of a failure (e.g., widespread power outage or loss of phone network/internet), the communication provider automatically sends an alarm notification.
Electrical installations
Electrical installations, with the exception of the Measurement, Control, and Regulation (MSR) technology, field devices, E-check, and signal testing, are mainly carried out by external companies that are locally based at the construction site, on behalf of COVAC.
Commissioning, maintenance, and servicing
Commissioning, maintenance, and servicing of the systems are performed by the company's own personnel. For a majority of the installations, remote maintenance is possible through a modem connection.
COVAC Our business areas
The company's divisions are divided according to competence areas/business sectors:
Plant and Machinery Engineering:

Specializing in the design and construction of industrial plants and machinery.

Automotive Industry, Conveyor Technology, and Logistics:

Providing automation solutions for the automotive industry, as well as conveyor systems and logistics applications.

Chemical Plants, Tank Systems, and Liquefied Gas Plants:

Expertise in automating chemical plants, tank systems, and facilities handling liquefied gases.

Air Technology, Heating Systems, and Paint Application Systems:

Focusing on automation solutions for air technology, heating systems, and paint application facilities.

Food Industry:

Providing automation services tailored to the specific needs of the food processing industry.

Construction, Mining, and Earthworks:

Offering automation solutions for construction and mining equipment and earthworks machinery.

Reconstruction of Crane Systems and Turntables:

Specializing in the reconstruction and modernization of crane systems and turntables.

Environmental Technology, Recycling, and Renewable Energies:

Expertise in automation solutions for environmental technology, recycling processes, and renewable energy systems.

Water Technology Systems (Drinking Water, Wastewater, Reservoir Facilities):

Providing automation services for water treatment, distribution, and reservoir facilities.

Building Technology and Facility Management:

Focusing on automation solutions for building technology and facility management systems.

High Purity Media Supply Systems (Gas Distribution, Monitoring, and Alarm Systems):

Specializing in automation for high purity gas distribution, monitoring, and alarm systems.

Railway Technology, Rolling Stock Manufacturing, and Testing Technology:

Providing automation solutions for railway technology, including rolling stock manufacturing and testing equipment.

Custom Machine Manufacturing and NC Controls:

Specializing in the design and construction of custom machines and incorporating NC controls.

Fixtures and Handling Systems:

Expertise in developing fixtures and handling systems for industrial applications.

Remote Control Systems (Radio Frequency and Infrared Controls), Data, and Remote Operation Technology:

Focusing on automation solutions using remote control systems, data transmission, and remote operation technology.