Plant and Machinery Engineering – Perfect Collaboration
In almost all industrial sectors, machines and systems are used to manufacture complex products. With continuous development and optimization, the number of machines and systems is increasing steadily. These systems essentially consist of several interconnected special machines, but they are automated and safety-engineered down to the smallest detail to work in perfect harmony. The individual steps of the interconnected machine system seamlessly complement each other to handle demanding tasks.
To ensure this, it is crucial to have the right professional and experienced partners on board. The team at COVAC Elektro und Automation GmbH supports you in the development, engineering, manufacturing, assembly, and later also in the optimization (e.g., cycle times) or maintenance of your machine system.
Plant and Machinery Engineering – Experience and Performance Scope
Automotive Industry
Transport systems (skid technology, power & free)
Handling systems
Chemical and gas plants
Gas treatment plants
Liquefied gas plants
Liquefied gas storage
Tank car filling stations
Air technology / paint application systems
Climate control systems
Building automation
Large cabin, small parts paint application, and pre-treatment systems
Conveying technology and logistics
Storage systems
Power & free systems
Circular conveyors
Skid conveyors with automatic positioning (ICS)
Food technology Fermentation
Freeze dryers, refrigeration systems
Cookers
Pasteurization
Hard cheese presses
Farm dairies
CIP and washing systems
Energy and environmental technology
Power supply systems
Heating plants
Prepolymer plants
Plastic recycling plants
Construction, stones, and earth
Gravel plant equipment
Quarry equipment
Remote controls (radio and infrared controls)
Crane systems
Tandem crane systems
Gantry crane systems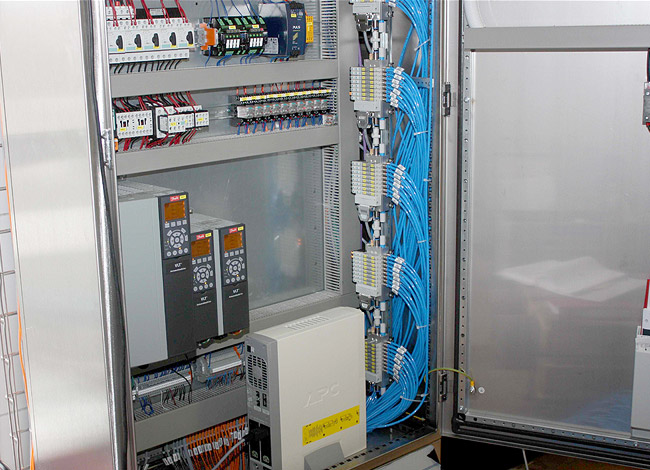 We would be pleased to hear from you and receive your project inquiry. Please share your ideas with us so that we can work together to implement them.
Projects / Technical Support
Dirk Becker
Tel.:03591 3694-17
Mail: D.Becker@covac.de

We cover a broad spectrum. Innovation, quality, reliability, service & support, and flexibility
Our systems are meticulously designed down to the smallest detail to suit your products and their associated processes.
We have successfully automated processes in the energy supply, medical technology, automotive industry, chemical, food technology, energy, and environmental technology sectors. With this wealth of experience, we are the right partner to realize individual assembly solutions.